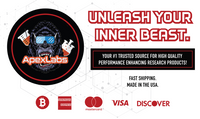 Apex GEAR
Care Package

Holographic Stickers
Bulk Order
20 bottles

40 bottles
Fast shipping, outstanding product, Apex Labs is my go to source for all my performance enhancing needs. 

David B
One of my bottles broke in transit, I emailed them and they sent me a replacement right away! 

Kyle T
Ive used Apex Labs for my prep and its helped me get dry and hard! Love you guys! 

Amanda W
Gained 12lbs in 6 weeks on sarms, Keep up the great products guys! 

Alex E
Been struggling to gain weight my whole life , the super mass stack helped me go from 140 to 160 lbs in 12 week! Cant wait for my second cycle 

-Richard Perez
I lost 35 lbs with the super fat loss stack , I've never taken anything like this before. Helped curb my appetite , tons of energy, and I felt so good. 

Jazmine G.
Yo this shit really works , I was skeptical at first . But Apex Labs really does have real shit! Ill be back for more. 

Tony F.
DMAA x Selank = super intense focus while killing all my anxiety. I fly through work like nothing  now. 

Kyle G.
Disclaimer
Our products are NOT sold as a supplements and are strictly for research use and application only. ​The FDA warns of ​unknown health risks and potential risks of liver toxicity, stroke and heart attack. Must be 21 years old to view our website and/or purchase. Please review our ​Legal Disclaimer. Keep product stored safely away from children, pets & those not educated in proper handling. APEX LABS does not assume liability for any misuse of this product or any misconduct voluntary or involuntary which may violate our terms of purchase policy.
TERMS: All products sold by APEX LABS are expressly intended for research and laboratory purposes only. These products are not designed, formulated, or approved for human consumption, medical, veterinary, or household applications.
It is strictly forbidden to use any products obtained from APEX LABS for any purposes other than research and laboratory use. This includes but is not limited to any form of consumption, medical treatment, veterinary use, or household application.
APEX LABS maintains a no-sell list of individuals and entities that have been found to violate our intended use policy. Any person or organization found to be using our products improperly will be added to this list, thereby prohibiting them from making future purchases from APEX LABS.