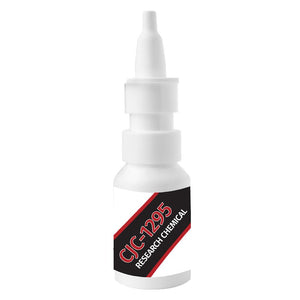 4mg bottle , 20mcg per spray 
Peptide CJC-1295 without DAC (Drug Affinity Complex) is a synthetic peptide that is used for various therapeutic and research purposes. Its chemical name is tetrasubstituted peptide with the amino acid sequence Tyr-D-Ala-Asp-Ala-Ile-Phe-Thr-Gln-Ser-Tyr-Arg-Lys-Val-Leu-Ala-Gln-Leu-Ser-Ala-Arg-Lys-Leu-Leu-Gln-Asp-Ile-Leu-Ser-Arg-LysLys(Maleimidopropionyl)-NH2.
Uses and Functions:
CJC-1295 without DAC is used in research and medical settings for various purposes, including:
Stimulating the production of growth hormone (GH): CJC-1295 without DAC is a growth hormone secretagogue that stimulates the production of GH by the pituitary gland. It does so by binding to specific receptors in the pituitary gland, which in turn, promotes the secretion of GH.

Improving body composition: CJC-1295 without DAC has been shown to improve body composition by increasing lean body mass and reducing body fat. It is thought to do so by increasing the production of GH, which stimulates the growth and repair of muscle tissue and the breakdown of adipose tissue.

Enhancing immune function: CJC-1295 without DAC has been shown to enhance immune function, making it a potential treatment for various immune-related disorders.
Benefits:
CJC-1295 without DAC has a range of potential benefits, including:
Increased muscle mass and strength: CJC-1295 without DAC can help to increase muscle mass and strength, making it a popular supplement for athletes and bodybuilders.

Reduced body fat: CJC-1295 without DAC can help to promote fat loss, making it a potential treatment for obesity.

Improved bone density: CJC-1295 without DAC has been shown to improve bone density, making it a potential treatment for osteoporosis.

Enhanced immune function: CJC-1295 without DAC has been shown to enhance immune function, making it a potential treatment for various immune-related disorders