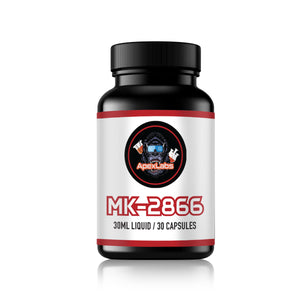 MK-2866 | Ostarine RESEARCH CHEMICAL
CONCENTRATION: 25MG OF MK-2866 | Ostarine PER CAP , 30 CAP BOTTLE 
Ostarine, known chemically as MK-2866, stands as a prominent member of the selective androgen receptor modulator (SARM) class, renowned for its potential to selectively target androgen receptors in specific tissues. 
Structural Composition: MK-2866, characterized by its chemical name (2S)-3-(4-cyanophenoxy)-N-[4-cyano-3-(trifluoromethyl)phenyl]-2-hydroxy-2-methylpropanamide, exhibits a distinctive chemical structure that defines its specificity for the androgen receptor. Its composition embodies a trifluoromethylphenyl moiety, contributing to its selective affinity for androgen receptors.
Mechanistic Insights: Operating as a SARM, Ostarine exerts its effects by interacting with the androgen receptor (AR) in a tissue-specific manner. Upon binding, Ostarine triggers conformational changes in the AR's ligand-binding domain, facilitating interactions with co-regulatory proteins. This cascade of events culminates in a context-dependent response, engendering anabolic effects within target tissues such as skeletal muscle, while mitigating adverse effects on non-target tissues.
TERMS: All products sold by APEX LABS are expressly intended for research and laboratory purposes only. These products are not designed, formulated, or approved for human consumption, medical, veterinary, or household applications.
It is strictly forbidden to use any products obtained from APEX LABS for any purposes other than research and laboratory use. This includes but is not limited to any form of consumption, medical treatment, veterinary use, or household application.
APEX LABS maintains a no-sell list of individuals and entities that have been found to violate our intended use policy. Any person or organization found to be using our products improperly will be added to this list, thereby prohibiting them from making future purchases from APEX LABS. 
| | |
| --- | --- |
| Application | Selective Androgen Receptor Modulator |
| CAS | 841205-47-8 |
| Molar Mass | 389.33 g/mol |
| Chemical Formula | C19H14F3N3O3 |
| IUPAC Name | ((2S)-3-(4-cyanophenoxy)-N-[4-cyano-3-(trifluoromethyl)phenyl]-2-hydroxy-2-methylpropanamide) |
| Synonyms | Ostarine, Enobosarm, GTx-024, MK-2866 |
| Storage | Room temperature |
| Solubility | Soluble in Ethanol, PEG400 |
| Physical Form | Solution in PEG400  |
| Specification | 25 MG PER ML |
| Terms | This material is sold for laboratory research use only. Terms of sale apply. Not for human consumption, nor medical, veterinary, or household uses.  Please click the word Research Chemical to better understand what they are.   *RESEARCH CHEMICAL.   |