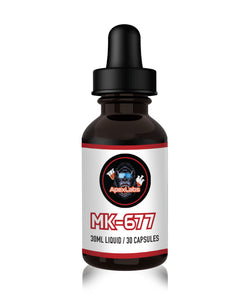 MK-677 | Ibutamoren  RESEARCH CHEMICAL 
CONCENTRATION: 25MG OF MK677 PER CAP , 30ML  BOTTLE 
Structural Configuration: MK-677's chemical architecture is delineated as 2-amino-2-methyl-N-(1R)-1-(1-methylsulfonylspiro[indoline-3,4'-piperidine]-1'-yl)-1-oxo-3-phenylmethoxypropan-2-yl)-2-methylpropanamide. This chemical orchestration underscores its potential for orchestrated modulation of growth hormone secretion.
Mechanistic Nexus with Growth Hormone Secretagogue Receptor: Operating as a discerning growth hormone secretagogue, MK-677 orchestrates engagements with the ghrelin receptor (GHSR) to orchestrate growth hormone release. Via GHSR binding, MK-677 triggers an intricate sequence of intracellular events, culminating in the discharge of growth hormone from the pituitary gland. This mechanistic tapestry augurs benefits for diverse realms, encompassing musculoskeletal dynamics and metabolic equipoise.
TERMS: All products sold by APEX LABS are expressly intended for research and laboratory purposes only. These products are not designed, formulated, or approved for human consumption, medical, veterinary, or household applications.
It is strictly forbidden to use any products obtained from APEX LABS for any purposes other than research and laboratory use. This includes but is not limited to any form of consumption, medical treatment, veterinary use, or household application.
APEX LABS maintains a no-sell list of individuals and entities that have been found to violate our intended use policy. Any person or organization found to be using our products improperly will be added to this list, thereby prohibiting them from making future purchases from APEX LABS.
| | |
| --- | --- |
| Application |  non-peptide ghrelin receptor agonist |
| CAS | 159752-10-0 |
| Molar Mass | 528.662 g/mol |
|  Chemical Formula | C27H36N4O5S |
| IUPAC Name | 2-amino-2-methyl-N-[(2R)-1-(1-methylsulfonylspiro[2H-indole-3,4′-piperidine]-1′-yl)-1-oxo-3-phenylmethoxypropan-2-yl]propanamide;methanesulfonic acid |
| Synonyms | Ibutamoren, MK-677, MK-0677, MK677, L-163,191, L163191, Nutrobal |
| Storage | Minimize open air exposure, store in a cool dry place. This product is hygroscopic. It can absorb moisture from the air and form hard clumps. |
| Solubility | Soluble in Water, Ethanol, PEG400 |
| Physical Form | Solution in PEG400 |
| Specification | 25 MG PER ML |
| Terms | This material is sold for laboratory research use only. Terms of sale apply. Not for human consumption, nor medical, veterinary, or household uses.  Please click the word Research Chemical to better understand what they are.   *RESEARCH CHEMICAL.   |