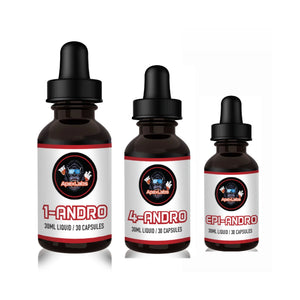 1 COMPLETE PRO HORMONE TRI STACK 
8 WEEK STACK:
2 BOTTLES EPI
2 BOTTLES 1 ANDRO
2 BOTTLESS 4 ANDRO
1 PCT : CLOMIFEN + TAMOXIFEN 
TOTAL : 8 BOTTLES
12 WEEK STACK 
3 BOTTLES EPI
3  BOTTLES 1 ANDRO
3 BOTTLESS 4 ANDRO
1 PCT : CLOMIFEN + TAMOXIFEN
TOTAL: 11 BOTTLES
WHY ITS BEST TO STACK?
Stacking epi-andro, 1-andro, and 4-andro is a popular approach among some fitness enthusiasts and bodybuilders looking to optimize their muscle-building and performance-enhancing efforts. While it's important to reiterate that the use of these compounds should only be considered after consulting with a healthcare professional, here are some reasons why some individuals may choose to stack them:
Muscle Growth and Strength:
The combination of epi-andro, 1-andro, and 4-andro may contribute to increased muscle protein synthesis, which is essential for muscle growth and repair. This, in turn, can lead to greater gains in lean muscle mass.
Prohormones, like 1-andro and 4-andro, may have the potential to convert into active hormones like testosterone, which are well-known for their anabolic effects on muscle tissue. 
Increased muscle strength is often reported by users, which can result in enhanced athletic performance and the ability to lift heavier weights during resistance training.
Fat Loss:
While these compounds are typically used for their muscle-building effects, some users claim that the increased muscle mass and improved metabolism from stacking may lead to enhanced fat loss. The potential increase in testosterone levels from 1-andro and 4-andro may also play a role in promoting fat loss, as higher testosterone levels have been associated with improved body composition.
Bodybuilding Benefits:
Bodybuilders often use prohormone stacks to amplify their muscle-building efforts during bulking phases. The combination of these compounds may create an environment conducive to rapid muscle growth, leading to noticeable gains in size and strength. The reported increase in energy and workout performance may enable bodybuilders to train with higher intensity and volume, promoting muscle hypertrophy and optimal training adaptation.

Synergistic Effects: Combining different prohormones in a stack may lead to synergistic effects, where the overall impact is greater than the sum of individual effects. Each compound may work through different pathways, potentially complementing each other and enhancing overall performance and muscle growth.

Targeting Different Pathways: Epi-andro, 1-andro, and 4-andro are believed to have varying effects on the body due to differences in their conversion to active hormones. For instance, 1-andro and 4-andro may convert to testosterone, while epi-andro may convert to dihydrotestosterone (DHT). By stacking them, users may aim to target multiple hormonal pathways to achieve a more comprehensive anabolic effect.

Maximizing Muscle Gains: Some users believe that combining these compounds can lead to greater muscle mass and strength gains compared to using them individually. This is based on the assumption that the combined effects result in a more powerful anabolic environment in the body.

Enhanced Performance: When used in combination, these prohormones may provide a more well-rounded performance enhancement. Users might experience increased energy, endurance, recovery, and strength, leading to improved overall athletic performance.

Reduced Risk of Side Effects: Stacking can allow users to use lower doses of each compound, potentially reducing the risk of side effects. Using moderate doses of multiple compounds may be perceived as safer than using high doses of a single compound.