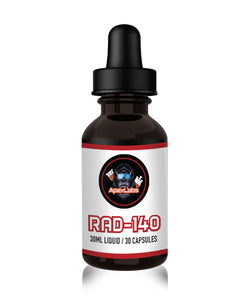 RAD 140 | TESTOLONE RESEARCH CHEMICAL , 30 ML BOTTLE
CONCENTRATION: 20MG OF RAD 140 | TESTOLONE PER ML
RAD-140, also known by its chemical nomenclature as Testolone, is a novel selective androgen receptor modulator (SARM) that has garnered substantial attention within the scientific community. With a chemical structure represented as 2-chloro-4-[[(1R,2S)-1-[5-(4-cyanophenyl)-1,3,4-oxadiazol-2-yl]-2-hydroxypropyl]amino]-3-methylbenzonitrile, RAD-140 exhibits an intricate interaction with androgen receptors, yielding potent and tissue-selective effects. 
Structural Overview: RAD-140 possesses a structurally unique composition, characterized by the incorporation of an oxadiazole ring and a nitrile functional group. This intricate arrangement confers specificity in its binding to androgen receptors, minimizing interaction with non-target tissues and reducing potential side effects.
Mechanistic Insights: Operating within the realms of selective androgen receptor modulators, RAD-140 demonstrates a remarkable affinity for the androgen receptor (AR). Upon binding, RAD-140 elicits conformational changes in the receptor's ligand-binding domain, thereby facilitating interactions with co-regulatory proteins. This event triggers an array of downstream transcriptional responses, culminating in a tissue-selective anabolic effect. Notably, RAD-140's interaction with the AR has been observed to stimulate bone and muscle anabolism while mitigating androgenic adverse effects in other tissues
 Rad 140 VS TESTOSTERONE  
The anabolic/androgenic ratio is a measurement that compares the anabolic (muscle-building) effects to the androgenic (masculinizing) effects of a compound. The higher the anabolic ratio relative to the androgenic ratio, the more favorable the compound is considered for muscle-building purposes.
RAD-140 (Testolone): RAD-140 is known for its high anabolic potency and favorable anabolic/androgenic ratio. While specific ratio data may not be available, anecdotal reports suggest that RAD-140 exhibits strong anabolic effects with minimal androgenic side effects. This selectivity makes it a desirable compound for muscle growth and performance enhancement.

Testosterone: Testosterone has an anabolic/androgenic ratio of 1:1, as it provides a balance between anabolic effects and androgenic side effects. While testosterone is an effective anabolic agent, it also has significant androgenic properties, which can lead to side effects such as increased facial and body hair, acne, and prostate enlargement. The use of supraphysiological doses of testosterone can further increase the risk of androgenic side effects.
In terms of anabolic/androgenic ratio, RAD-140 is considered more favorable than testosterone. RAD-140's selective binding to androgen receptors in muscle and bone tissues results in anabolic effects without significant androgenic side effects. On the other hand, testosterone provides a full range of androgenic effects throughout the body, which may increase the likelihood of experiencing androgenic side effects.
TERMS: All products sold by APEX LABS are expressly intended for research and laboratory purposes only. These products are not designed, formulated, or approved for human consumption, medical, veterinary, or household applications.
It is strictly forbidden to use any products obtained from APEX LABS for any purposes other than research and laboratory use. This includes but is not limited to any form of consumption, medical treatment, veterinary use, or household application.
APEX LABS maintains a no-sell list of individuals and entities that have been found to violate our intended use policy. Any person or organization found to be using our products improperly will be added to this list, thereby prohibiting them from making future purchases from APEX LABS.
| | |
| --- | --- |
| Application | Selective Androgen Receptor Modulator |
| CAS | |
| Molar Mass | 393.83 g/mol |
|  Chemical Formula | C20H16ClN5O2 |
| IUPAC Name | 2-chloro-4-{[(1R,2S)-1-[5-(4-cyanophenyl)-1,3,4-oxadiazol-2-yl]-2-hydroxypropyl]amino}-3-methylbenzonitrile |
| Synonyms | RAD140, RAD-140, Testolone |
| Storage | Room temperature |
| Solubility | Soluble in Ethanol, PEG400 |
| Physical Form | Solution in PEG400  |
| Specification | 20 MG PER ML |
| Terms | This material is sold for laboratory research use only. Terms of sale apply. Not for human consumption, nor medical, veterinary, or household uses.  Please click the word Research Chemical to better understand what they are.   *RESEARCH CHEMICAL.  |