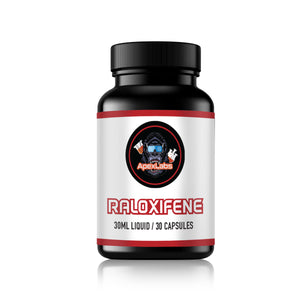 30 CAP BOTTLE, 60 MG PER CAP
Raloxifene is a non-steroidal SERM belonging to the benzothiophene family.
Raloxifene is very similar in its mode of action as 
Nolvadex (Tamoxifen)
, and does exhibit both Estrogen agonist as well as Estrogen antagonist effects in different tissues throughout the body. In particular, Raloxifene serves as an Estrogen antagonist in breast tissue and uterine tissue while at the same time acting as an Estrogen agonist in bone tissue.
Bodybuilders and anabolic steroid users are attracted to the use of Raloxifene due to its nature as an anti-estrogen in the fight against Estrogen-related side effects that are usually caused by the use of aromatizable androgens that result in high blood plasma levels of Estrogen in the body. A common estrogenic side effect as a result of this is the development of gynecomastia. In the realm of gynecomastia in particular, Raloxifene has actually demonstrated more promising effectiveness than Nolvadex (Tamoxifen).
As is common with all SERMs and anti-estrogens, Raloxifene has also demonstrated considerable benefit in stimulating endogenous natural Testosterone production in males, as studies have demonstrated an increase of serum Testosterone levels by 20% from 120mg of Raloxifene per day.
TERMS: All products sold by APEX LABS are expressly intended for research and laboratory purposes only. These products are not designed, formulated, or approved for human consumption, medical, veterinary, or household applications.
It is strictly forbidden to use any products obtained from APEX LABS for any purposes other than research and laboratory use. This includes but is not limited to any form of consumption, medical treatment, veterinary use, or household application.
APEX LABS maintains a no-sell list of individuals and entities that have been found to violate our intended use policy. Any person or organization found to be using our products improperly will be added to this list, thereby prohibiting them from making future purchases from APEX LABS.