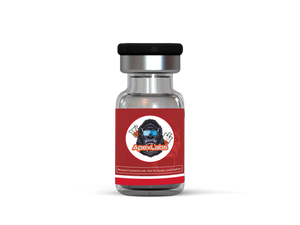 (INJECTABLE)
APEX SAVAGE APE PUMP (20ml bottle) 
EACH ML CONTAINS a blend of : 
L-ARGININE - 100MG 
L-CITRULUINE - 100MG 
L-ORNITHINE - 100MG 
L-GLUTAMINE - 100 MG 
L-GLYCINE - 50MG 
L-LYSINE - 50MG 
BCAA - 5MG 
TAURINE - 50MG
 See below for breakdown of each ingredient in  SAVAGE APE PUMP :
L-Arginine:
Function: L-Arginine is an amino acid that serves as a precursor to nitric oxide, promoting vasodilation and improved blood flow.




Benefits: It supports increased blood circulation, muscle pumps, nutrient delivery, and enhanced workout performance.



L-Citrulline:
Function: L-Citrulline is an amino acid that also contributes to nitric oxide production, helping relax blood vessels.




Benefits: It boosts endurance, reduces muscle fatigue, and supports enhanced muscle pumps and recovery.



L-Ornithine:
Function: L-Ornithine is an amino acid involved in the urea cycle, which helps remove waste products from the body.




Benefits: It may reduce exercise-induced fatigue, promote energy, and support detoxification processes.



L-Glutamine:
Function: L-Glutamine is a conditionally essential amino acid that supports muscle recovery, immune function, and gut health.




Benefits: It aids in muscle repair, reduces muscle soreness, supports immune system health, and maintains gut integrity.



L-Glycine:
Function: L-Glycine is an amino acid that plays a role in the synthesis of creatine, collagen, and other important compounds.




Benefits: It can enhance muscle growth, support joint and connective tissue health, and aid in sleep quality.



L-Lysine:
Function: L-Lysine is an essential amino acid involved in protein synthesis and collagen production.




Benefits: It supports tissue repair, immune function, and the maintenance of healthy skin and bones.



BCAAs (Branched-Chain Amino Acids):
Function: BCAAs include leucine, isoleucine, and valine, which are essential for muscle protein synthesis and energy production.




Benefits: They support muscle growth, reduce muscle breakdown, and provide a source of energy during workouts.



Taurine:
Function: Taurine is an amino acid that supports cardiovascular health, electrolyte balance, and cellular hydration.




Benefits: It may enhance endurance, improve muscle contraction, and promote overall performance.

 
 Unleash your inner beast with "Savage Ape Pump"  the ultimate fitness supplement engineered to conquer your workouts and dominate the iron jungle! 
🔥Harness the primal power of ARGININE, L-CITRULLINE, and L-ORNITHINE, creating a tsunami of blood flow for skin-splitting pumps and unstoppable strength! 
💥 Elevate your performance with the relentless force of L-GLUTAMINE and L-GLYCINE, paving the way for unyielding endurance and rapid recovery! 
💥 Embrace the savage energy of L-LYSINE, fueling your determination and driving you towards relentless progress! 
💥 Dominate every challenge with the precision-engineered BCAAs, fortifying your muscles and arming you with the ferocity of a primal warrior! 
💥 Conquer your limits with the unstoppable force of TAURINE, electrifying your focus and unleashing the inner beast within! 
Unleash the ferocity of "Savage Ape Pump" and become an unstoppable force of nature. Embrace the savage within and seize your place among the fitness elite!