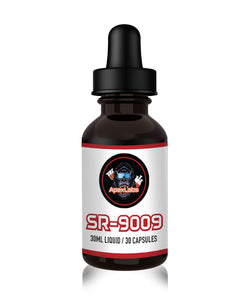 SR9009 | Stenabolic RESEARCH CHEMICAL
CONCENTRATION: 20MG OF SR9009 | Stenabolic PER ML , 30ML BOTTLE

SR9009, known chemically as ethyl-3-(((2-(2-pyridinyl-(4-trifluoromethylphenyl))amino)thiazol-4-yl)methylthio)methylpyrrolidine-1-carboxylate, is a compound of significant scientific interest due to its potential as a modulator of circadian rhythm and metabolism.
Structural Composition: SR9009's distinct structure incorporates thiazole, pyridine, and trifluoromethylphenyl moieties. This complex arrangement contributes to its affinity for the Rev-Erbα protein and enables its role as a potential modulator of circadian rhythm and metabolism.
Mechanism of Rev-Erbα Activation: SR9009 interacts with the nuclear receptor Rev-Erbα, a crucial player in regulating the body's internal clock and metabolic processes. By binding to Rev-Erbα, SR9009 influences the transcription of genes associated with various metabolic pathways, including lipid metabolism, glucose homeostasis, and mitochondrial biogenesis.
Circadian and Metabolic Implications: The interaction between SR9009 and Rev-Erbα holds implications for both circadian rhythm regulation and metabolism. Activation of Rev-Erbα by SR9009 is linked to a cascade of events that affect key metabolic processes, potentially improving lipid and glucose metabolism and enhancing energy utilization.
RESEARCH WITH  CARDARINE (GW-501516) 

TERMS: All products sold by APEX LABS are expressly intended for research and laboratory purposes only. These products are not designed, formulated, or approved for human consumption, medical, veterinary, or household applications.
It is strictly forbidden to use any products obtained from
APEX LABS
for any purposes other than research and laboratory use. This includes but is not limited to any form of consumption, medical treatment, veterinary use, or household application.
APEX LABS maintains a no-sell list of individuals and entities that have been found to violate our intended use policy. Any person or organization found to be using our products improperly will be added to this list, thereby prohibiting them from making future purchases from APEX LABS.
| | |
| --- | --- |
| Application | A potent agonist of Rev-ErbA |
| CAS | |
| Molar Mass | 437.94 g/mol |
|  Chemical Formula | C20H24ClN3O4S |
| IUPAC Name | ethyl 3-[[(4-chlorophenyl)methyl-[(5-nitrothiophen-2-yl)methyl]amino]methyl]pyrrolidine-1-carboxylate |
| Synonyms | SR9009, SR-9009, SR 9009, Stenabolic |
| Storage | Room temperature |
| Solubility | Soluble in Ethanol, DMSO, or PEG400 |
| Physical Form | |
| Specification | |
| Terms | This material is sold for laboratory research use only. Terms of sale apply. Not for human consumption, nor medical, veterinary, or household uses.  Please click the word Research Chemical to better understand what they are.   *RESEARCH CHEMICAL |